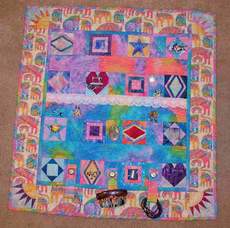 TREASURE QUILT
Supply List
During class we will focus on learning techniques to piece the blocks in this quilt.
The blocks finish 3 ?? square.
Regular piecing techniques will be used for:
Log cabin

Square within a square
Paper piecing techniques will be used for:
Triple Square

Triple Diamond

Heart

Star
You will receive the full instructions to finish the quilt.
Fabric:
Assorted scraps for blocks, fat quarters work well.? You will need a variety of light, medium and dark fabrics that read mostly solid.
The following fabrics are needed to finish the project, but will not be used in class, so they can be chosen later if desired.
? yard of lace, approximately 1? or 1 ?? wide
? yard of lattice fabric
2/3 yard of border fabric
? yard of binding fabric
Bring fabric that is prepared to work with.? Which means, pre-wash if you are going to pre-wash (sometimes I do, and sometimes I don?t).? Either way, press the fabric, and re-fold with the selvedge edges together, so that the folded edge is also even (no bunches).? You don?t need to fold the fabrics for the blocks, only the others which will be cut with a rotary cutter.
Other Supplies:
Pen or pencil for taking notes

Long ruler ? 24? x 6? or 12? x 6?

Rotary cutter

Rotary cutting mat

Paper scissors

Sharp pencil or other fabric-marking tool of your choice (for use on the wrong side of fabric)

Sewing machine and basic machine sewing supplies, including:

Thread for piecing (I recommend light gray)

Extra machine needles

? inch foot, regular foot for paper piecing

Straight pins
Simply put, fashion is the addition of "time" and "advocacy." Fashion
hermes replica
is the life that some people admire in a short time. The pursuit of fashion
replica gucci
is not in passive follow-up but in rational and skilled control. Its tentacles go deep into every
replica bags
aspect of life, and people have been arguing over it.At the same time, we also realize that human pursuit of fashion
chanel replica
has promoted a better life for human beings, whether spiritual or
fake bags
material.